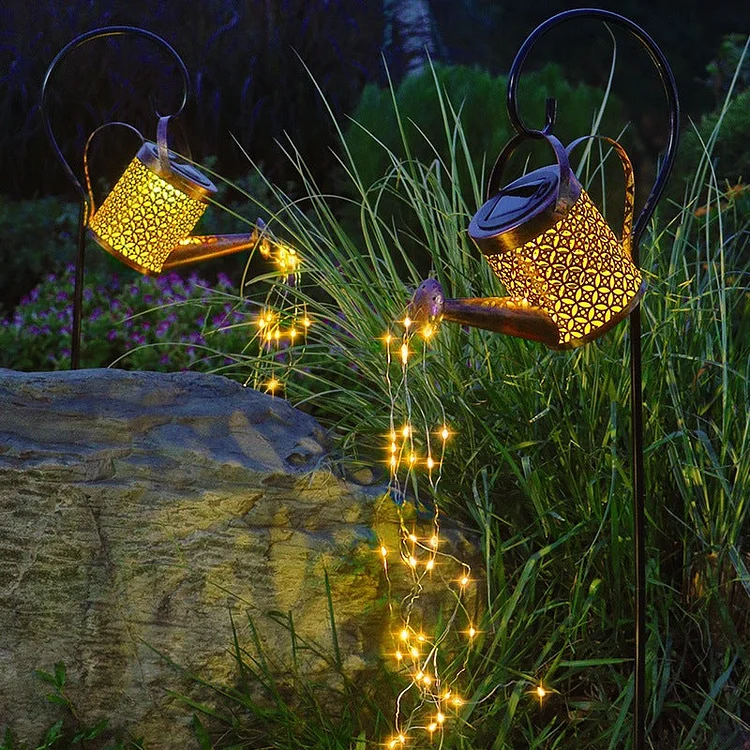 [Starry Night] Solar-powered decorative outdoor lights to make your garden sparkle. Bring the starry night to you. Decorate your garden. With this light, you may dream of starry nights with a house full of twinkling stars. What a wonderful night. Solar intelligent control is automatically extinguished and is charged during the day, and automatically lights up at night. Not harsh faint light, to bring a sense of romance.
[Lighten Up Your Garden] Solar LED panel, no extra batteries. Best decorative waterfall light. Light up your backyard, garden, flower bed, pathway, lawn, outdoor, etc. Light up your vacation and daily life. Bring fairy tales to your kids. The kettle design looks great. The warm LED design illuminates the path and porch while showing a beautiful view of the kettle pouring water.
[Solar-Powered Light] Place this art light anywhere in the garden, during the day, the solar panel can absorb energy by itself. Turn on the light button and it can light up at night. It is durable and easy to work with, you will get many romantic nights.
[Beautiful Pattern] With MSDS certificate. You can use it safely. Turn the switch to ON to turn on, cover the solar panel with your hand it will light up automatically. Solar cell included. Waterproof.
These two stakes all measure approx. 31.5H inches. The difference is can sizes.