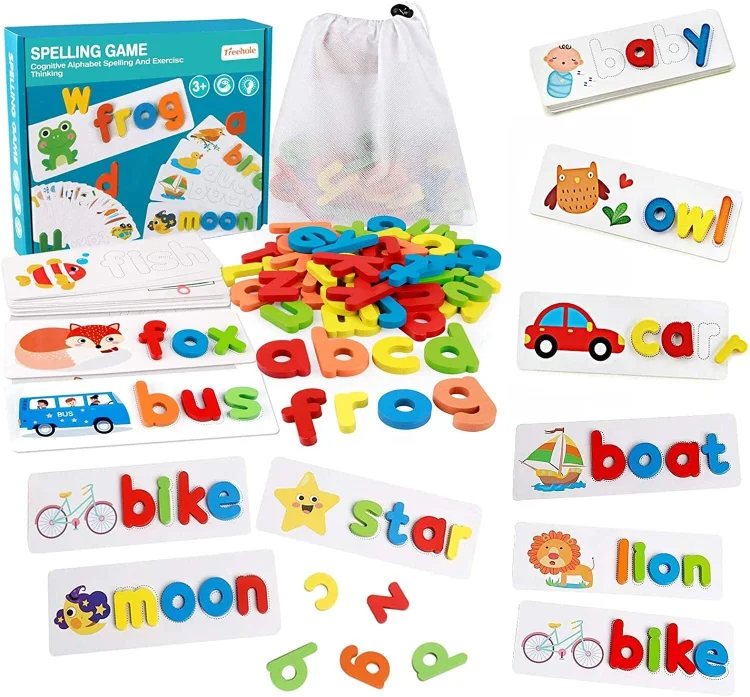 Game:
Spelling Game Learning Card
Number of Players: 1-4
Playing Time: 10 minutes
Recommended Age: 3+
Letter sorting and stacking is an essential educational game for preschoolers and makes fun activity for parent and children to play together.
This matching letter game allows players to match words to pictures , teaching children both the alphabet and correct spelling.

FEATURES:
Encourages Letter Recognition & Sounds

-

As children continue to play the game, it helps them learn letters of the alphabet, objects, words, as well as read, write and spell.
Boosts Interest In Learning -

Completed with colorful pictures and letters, the matching game helps accelerate language learning and keeps your child amused!


Hassle-Free Teaching -

Offering fast, fun, and addictive entertainment, teach your little one the basics of reading & writing without any difficulty.


Screen-Free Activities -

Providing a hands-on learning experience, reduce distractions from screens/electronics while maximizing fun!


Safe For Children -

Finished in non-toxic paint and smooth, rounded edges, the swallow-proof wood letters are harmless and safe for any child to play with.
Package comes with:
- Wooden letters x 32
- Picture cards x 28 (56 words - 3 and 4 letter words)
- 1 Storage Bag
⭐️ Customer Reviews and Feedback ⭐️