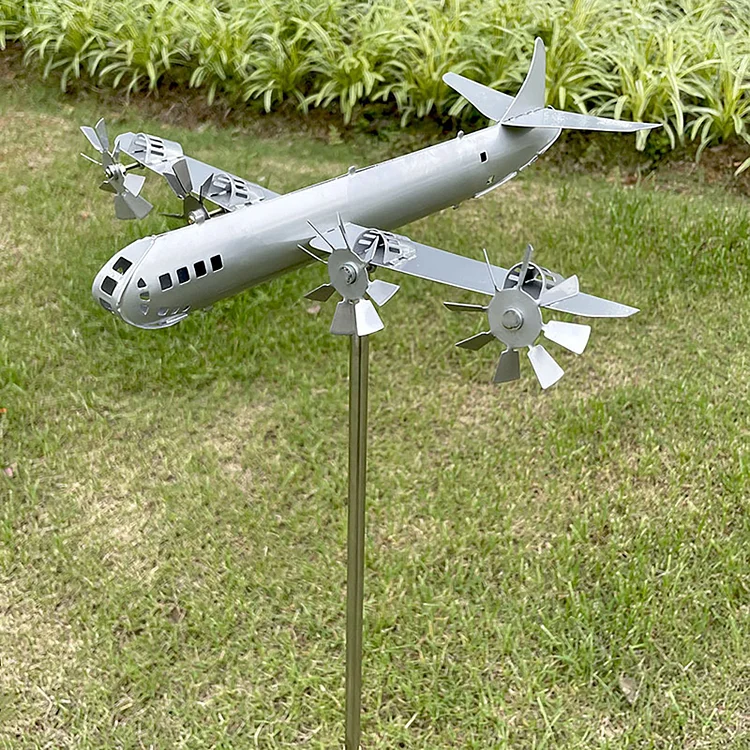 【Lightweight and Strong Material】Many wind spinners outdoor come with a single blade that spins in one direction. Our B-29 Super Fortress wind spinner has a solid metallic construction with dual wind motion. The two tiers blades smoothly rotate in opposite directions on sealed bearings.
【Special Design Outdoor Artwork】Each blade of this B-29 Super Fortress yard spinner is designed to spin in different directions, ball bearing construction allows our wind catcher to quietly spin even in the slightest breeze. Our kinetic metal wind spinners come with multi-color brushed coat finishes and a stable stake at the base, which is built to withstand all weather, sturdy and durable for windy days.
【Easy to Install】This gardening decoration is easy to assemble with the instructions and just relies on the wind to drive, so no additional wiring. You just simply position it in a sunny and windy location with the metal stake, then the Unique And Magical Metal Windmill will rotate with the wind into various beautiful and futuristic shapes. The metal windmill sparkles in the sun, and you can enjoy your garden ornament.
【High Quality Windmill】This B-29 Super Fortress garden spinner is constructed with durable stainless steel metal components and a long-lasting combo finish of paint and foil, not afraid of rainy and other severe weather, bright metallic and reflective painting creates a visual sensation in the garden, that will attract the eyes of passers-by and neighbors and arouse their admiration!
【Great Garden Artwork and Perfect Gifts】Light up your garden with seasonal color and impress your neighbors, the outdoor metal wind spinner is easily seen and admired by passers-by but not intrusive to neighbors. It is relaxing to watch while spending time out on the sun porch or yard. Would look fantastic in any. On various holidays and birthdays of family and friends, this stylish windmill is also a great gift, which should surprise them!
Size
Length x Width:30x32cm
Pole Height:72cm