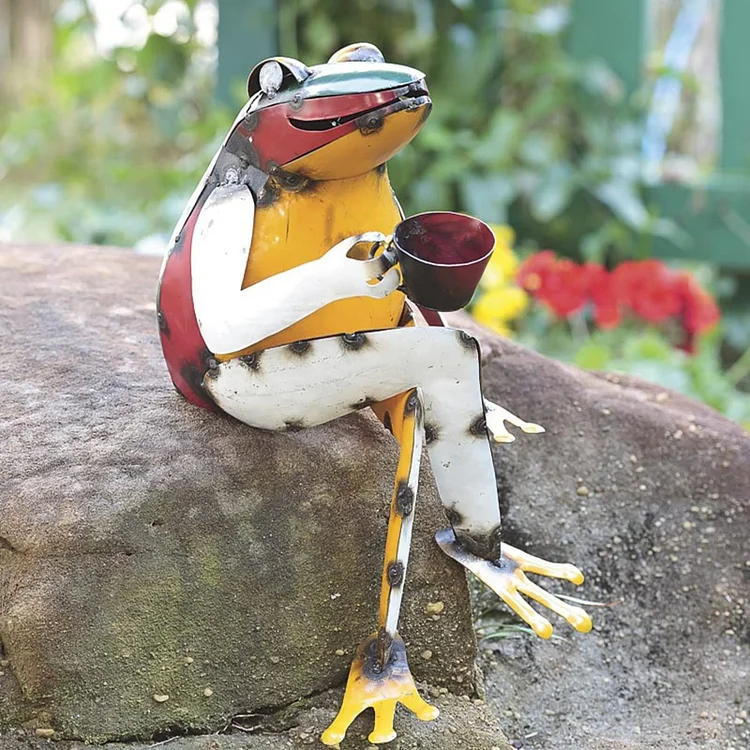 【Lovely Yard Decoration】This whimsical set of four decorative Frogs will surely jump-start your garden decor. Colorful frogs are handmade of recycled metal and hand-painted in bright, cheerful colors.
【Four Options】There are four different styles of our metal coffee frog ornament in total. The frog holding a coffee cup is a large size, and the frog holding a doll, and a milk bottle is a small size. 

【Multipurpose Decoration】Dad sips his coffee and Mom, wearing a necklace and flirty eyelashes, sips her tea. Two adorable babies complete this fun frog family. One holds a teddy bear while the other holds a bottle. Set them on porch stairs, in the garden, or anywhere you want to bring a smile. 
【Material】Frog ornaments are made of high-quality metal, rust-proof, and hand-painted in color. Strong and durable, it can be used for a long time without rusting or fading.
【Product Dimensions】

Daddy frog:7" L x 5.3″W x 12″H

Mother frog:  7″L x 5.3″W x 12"H

Bottle frog:3.2"L x3"W x 6"H

Doll frog: 2″L x 3.5″W x 6"H