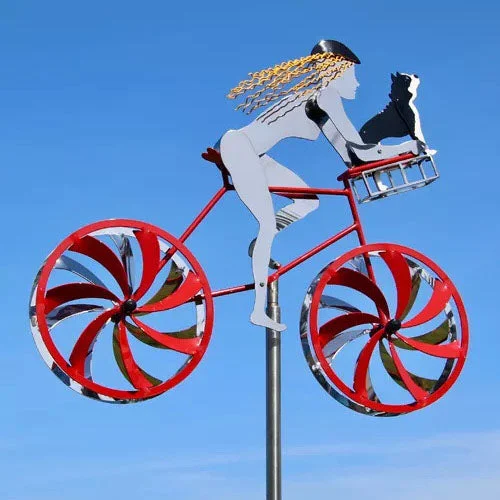 【Unique Design】Windmill spinners have 7 blades for each tire. Dual ball bearing movement, 360 Degree rotation, can rotate even in the breeze, with no noise.And spinners inside the bike's wheels are multicolored for a fun rainbow look.
【Easy to Install】This gardening spinner decoration is easy to install, just rely on wind power, no extra accessories are needed. You can place it in a sunny and windy place, then the unique and magical metal pinwheel will rotate with the wind into various beautiful and futuristic shapes.
【Premium Material】Made of durable stainless steel metal parts and durable paint, this garden spinner is not afraid of rain and other inclement weather.
【Wide Application】Our dynamic metal wind spinner is perfect for outdoor decoration such as gardens, patios, lawns, patios, etc. Very beautiful, adds character and beauty to your house, perfect artistic vibe.
Product Size: 15.75 * 36.61 inch