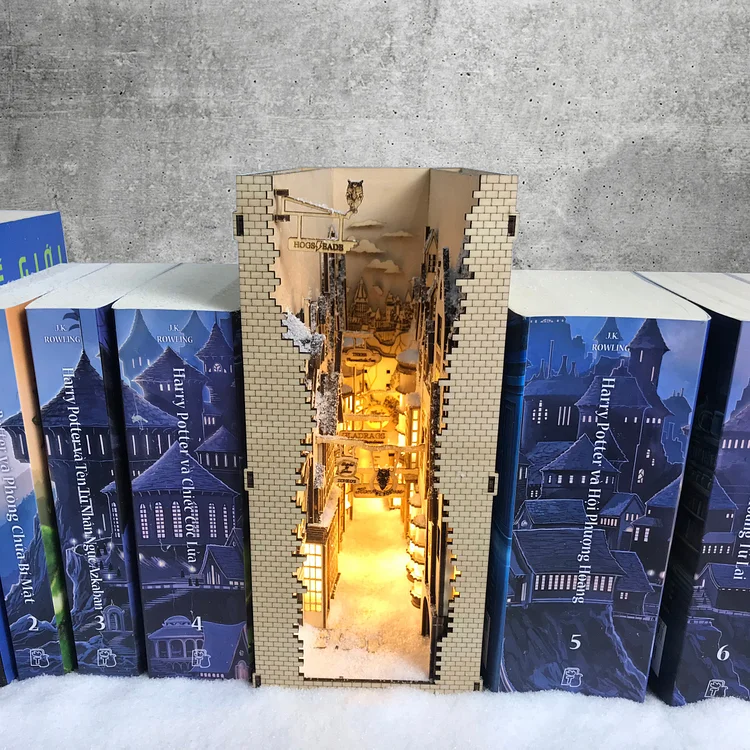 Why Miniature Crafts?
✔️ Inspire Imagination & Creativity
✔️ Encourage Learning, Concentration & Patience
✔️ The Ultimate Bonding Experience
✔️ Perfect As A Gift
✔️ Stress Relief (Take Your Mind Off)


Furnished With The Finest Details -

 Anavrin takes you to visit a corner of the famous Hogsmeade village in the wizarding world of Harry Potter. Where the magic shops are so familiar to those who have once been immersed in the magical world of Harry Potter.
Realistic Storefront Miniatures -

 We've taken inspiration from the actual Zonko's Joke Shop, Three Broomsticks Shop, Duke of Honey Shop... are vividly described through every detail assembled along a neat paved road. Standing at the top of the village was the dimly lit Hogwarts castle, standing proudly on the distant mountain snout.
Build Hogsmeade's Village Book Nook From Scratch -

 

Dive straight into constructing your very own magical village with all the raw materials provided as you explore your creativity and create a one of a Harry Potter's scene personalized to you.
A Timeless Masterpiece -

 Hogsmeade's Village

 unique design will never grow old as a showpiece in your house. Proudly show it off on your display for a lifetime.
No Additional Tools Required

 

- Everything you need to build Hogsmeade's Village Book Nook is provided inside our kit. 

Simply unbox and start crafting!