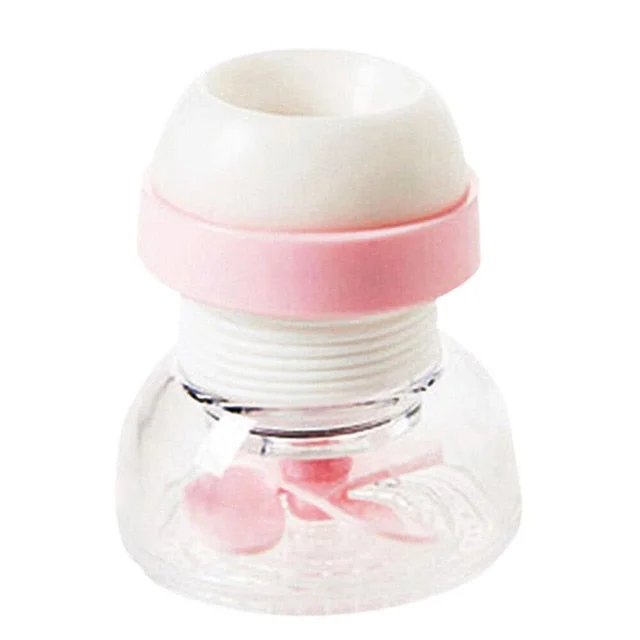 PRODUCT INFORMATION
WATER SAVING TAP, ANTI SPLASH TAP, FAUCET SPRAYER FAUCET NOZZLE FILTER AERATOR DIFFUSER WATER-SAVING DEVICE FOR KITCHEN, BATHROOM ANDTOILET
FEATURE :
WATER SAVING - SHOWER HEAD DESIGN, INCREASE THE CONTACT AREA BETWEEN OBJECT AND WATER, GREATLY SHORTEN THE CLEANING TIME AND SAVE WATER IN EFFECTIVELY.FAUCET AERATOR CAN SAVE 30%~70% WATER,ENERGY SAVING AND ENVIRONMENTAL PROTECTION.

360 DEGREES ROTATE&FOLDABLE - ITS 360 DEGREE ROTATION FUNCTION CAN CLEAN ANY BLIND ANGLE OF THE SINK.COLLAPSIBLE AND FOLDABLE TAP MAKE IT EASY TO CARRY.AND IT CAN BE BENT AND FIXED ACCORDING TO YOUR TARGET ANGLE. FLEXIBLE TUBE MAKE IT EASY TO CLEAN THE SINK ANYWHERE, VERY CONVENIENT.

DURABLE& WATER PURIFIER - HIGHEST QUALITY MATERIAL - FAUCET NOZZLE FILTER IS MADE OF HIGH QUALITY PP, PVC MATERIAL, WEAR RESISTANT.MEDICAL STONE FILTER UNIT INHIBIT THE GROWTH OF BACTERIA.FILTER AND PURIFY YOUR WATER, GIVE YOUR FAMILY ONLY THE BEST AND HEALTHY WATER.
EASY TO INSTALL - NO TOOLS ARE NEEDED, JUST MAKE SURE YOUR FAUCET FITS THE PRODUCT'S DIMENSIONS AND IS READY FOR USE.RUBBER INTERFACE, RELIABLE SEALING.
SPECIFICATION:
COLOUR: BLUE , PINK , GREEN
DIMENSION:
5CM X 5CM X 6.5CM