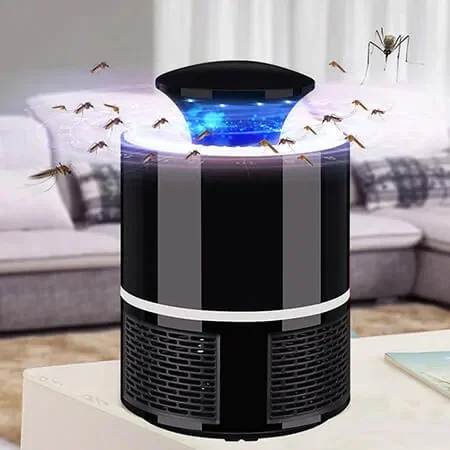 POWERFUL & EFFICIENT
The lamp emits a special kind of heat and light — 365nm wavelength is especially attractive to insects and the curved design makes sure that the purple light is emitted from all sides of the device guaranteeing a 360 degree area coverage. This means that no bugs in the vicinity will escape the trap.
EASY CHARGING
The lamp is conveniently powered via a widely compatible USB port. So you can easily keep it charged from your laptop, power bank, a phone charger and more — with no worries about running out of power or the need to keep a stock of batteries for the device.
SIMPLE AND SAFE
The anti-mosquito lamp is absolutely safe to use in any area of your home including a child's bedroom and does not cause any harm to humans or pets.
It does not require any insecticides or other toxic substances that can pollute the air in your home or cause allergic reactions and is 100% eco-friendly.
UNOBTRUSIVE AND QUIET
The lamp uses a very faint yet very effective purple light, which can get rid of the annoying insects quickly but won't cause you any discomfort. Despite being equipped with a strong suction fan (the one that traps all the bugs inside), the lamp only produces 35dB of noise, which can be compared to a gentle whisper and won't interrupt your beauty sleep.
QUICK TO CLEAN
Thanks to the detachable design, the lamp is super easy to clean. All you will need to do is detach the bottom part of the lamp, discard the dead insects and place it back on — your lamp is ready for action once again. What's more, this particular model comes with large capacity "mosquito storage", you won't have to clean the lamp often.
COMPACT
While some mosquito killer lamps can be bulky, this model only measures 12.50 x 12.50 x 19.00 cm and you can easily bring it along on a camping trip or move it between the different rooms of your house.
HOW TO USE: 
Just connect the plug with the USB Port.

Press the button on the top of the device, then the light will open and the fan will work. The wind will become stronger gradually.
SPECIFICATIONS:
Color:

 

Black / White

Dimensions: 

4.9*4.9*7.5 inch(12.5*12.5*19cm)

Net Weight:

 

0.5kg

Voltage: 

5V

Power Output:

 

5W

Anti-mosquito range: 

51-100㎡
Packing Includes:  
1 X UV Suction Killer USB Lamp
Please Note:
1. Please allow 1-3cm error due to manual measurement.
2. Please understand that colors may exist chromatic