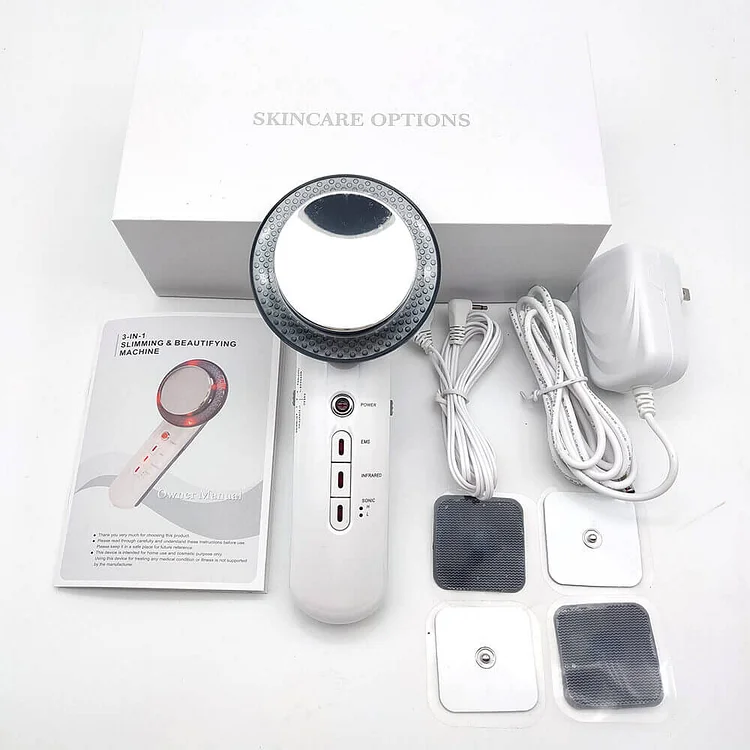 Body Sculpting & Skin Care System is an easy-to-use, home beauty device that combines Ultrasound Cavitation, EMS, and Infrared in one powerful device.
Suitable for men and women, to reduce fat and cellulite wherever it's directed. Scroll Down to Learn More 👇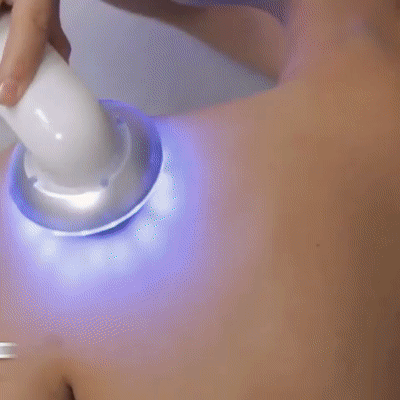 WHY OUR CUSTOMERS 😍
✅ Ultrasound to Reduce Fat & Cellulite
✅ Slimming Buttocks, Abs & Neck
✅ Collagen Production & Skin Elasticity
✅ Double Chin & Turkey Neck Reduction
✅ Bat-wings, Love Handles & Saddlebags
✅ 🌞 Leaner Summer Beach Body
✅ Post-Pregnancy Slimming & Toning
✅ Great Home Gym Addition
✅ Cheaper than Pricey Spa Treatments
✅ Infrared for Skin & Anti-Wrinkles
✅ Easy to Use, Non-Invasive & Painless
✅ Aids in Releasing Toxins in Fat Cells

THREE POWERFUL BUILT-IN TECHNOLOGIES!
1. ULTRASOUND CAVITATION MODE: This mode uses Targeted Sound Waves to painlessly reduce localized fat & cellulite. Ultrasound is also known to improve the appearance of moderately loose and sagging skin.
According to WebMD, Ultrasound Cavitation is used to Reduce Cellulite and Localized Fat. This involves applying gentle pressure with sound wave vibrations, Breaking Down Fat into liquid form to be expelled naturally by the body.

2. FAR INFRARED MODE: Infrared has some really unique and amazing uses and doesn't damage the skin like UV light. Infrared light promotes cell renewal and has many other benefits.
3. EMS MODE: (electrostimulation) EMS has received a lot of attention for a number of reasons, including, skin firming, massage, pain treatment, and muscle stimulation.

SHARE YOUR SUCCESS STORY!
Click the "ADD TO CART" button to grab yours!
🔥 High Demand Product: Due to current shipping delays to Alaska and Hawaii, deliveries may vary from 15-30 days.
We have 24/7/365 Email Support. Please contact us at service@smartdeconline.com
when you need assistance or on our Toll-Free number during business hours.

Please Note: Use the Ultrasonic Mode with any water-based Ultrasound gel. We also sell a special gel for this that has additional fat-burning properties.

What About the Quality?

Don't be fooled by cheaply made copies with long delivery times. Our devices have high-quality components with a replacement rate is less than 1%. If your device breaks in transport, stops functioning, or has a defect, we'll replace it in a jiffy at Zero Cost to you.


What to expect when you order:
Once you complete your purchase you will receive our very own hand-crafted guide. This is separate from the manufacturer's guide and includes videos & more detailed instructions for your device. It also tips and best practices 👌
RECOMMENDATIONS:
We recommend a 72-hour break between treatments. Walking, cycling or a regular exercise routine and drinking plenty of water will support maximizing the results as the elimination of the released fat through the lymphatic system continue for up to 3 days after treatment.

Guides and Video Tutorials provided.

Package Includes:

1x 3 in 1 Device 1MHz Ultrasound/EMS/Infrared
1x Power adapter
2x Contact Pads
1x English User Manual
1x Retail Box
Disclaimer: The statements on this website have not been evaluated by the Food and Drug Administration. The products offered are not intended to diagnose, treat, cure, or prevent any disease. Results will vary from person to person. If you have any pre-existing medical conditions, please contact your doctor first.
This technology should be avoided by people with cardiac and vascular disorders, diabetes, acute or chronic illness, compromised liver function, extreme bleeding tendencies, pacemaker wearers, and women who are pregnant, attempting to get pregnant, or breastfeeding.