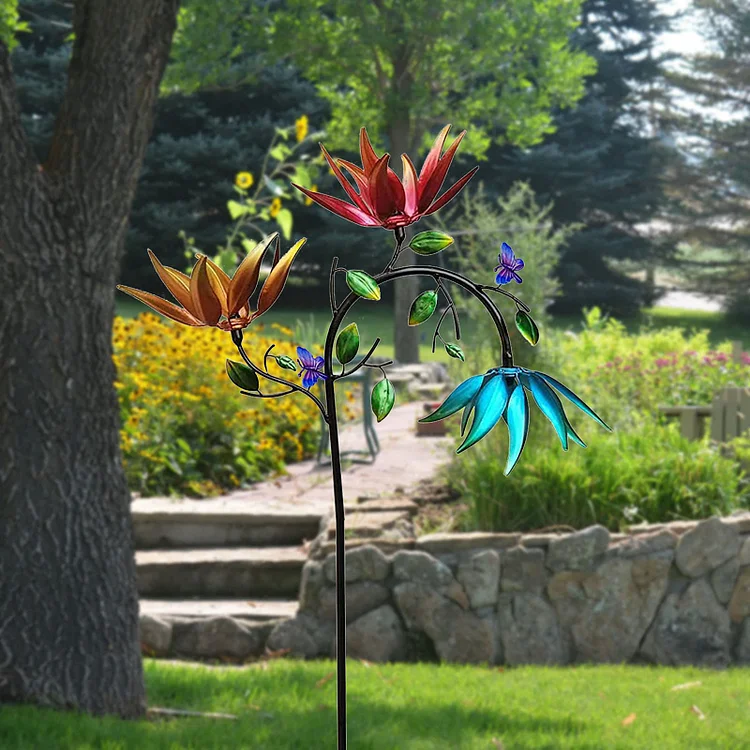 【3 Spinning Flowers】Loaded with details, this unique spinner features three moving flowers in bright, vivid colors – two are upright and one hangs down, all catching the breeze beautifully. Vibrant green leaves and butterflies add to the nature-inspired design.
【Easy Installation】Set up your windmill in just a few steps! Once the stake is put together, installing your kinetic is easiest in moist soil or grass. If your soil is dry, pour 1 gallon of water onto the area and allow the liquid to soak in. Push the bottom prongs into the soil until they are completely covered.
【Perfect Garden Decoration】Three independent spinning flowers accented with leaves and butterflies. Each spinner flower is a different color and moves independently. Metal art for the yard, garden, and landscape.
【Durable Metal Material】 It measures 12 x 91 x 41 inches. this windmill will quickly become the focus of your landscape. Metal with a durable, all-weather finish. It is a great choice for your garden or patio decoration.